Ethiopia launches Scaling Solar tender with 250MW RFQ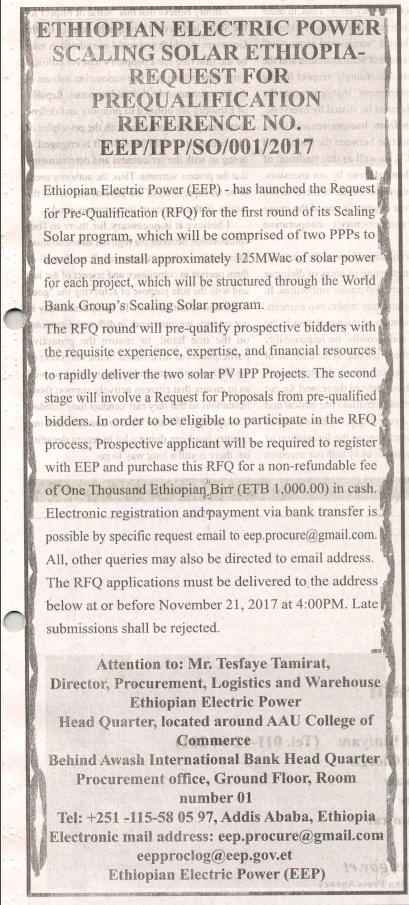 Today, Ethiopian Electric Power (EEP) formally initiated its Scaling Solar tender by issuing a Request for Pre-Qualification (RFQ) for two solar photovoltaic projects, each with a capacity of 125MWac.
All interested parties are invited to:
— Purchase the RFQ documents for 1,000 Ethiopian Birr at the EEP's Head Office (Meba Building, Legahar, Addis Ababa), Procurement Department, Ground Floor Room #1; or
—  Request instructions on how to register and purchase the RFQ documents electronically by sending an email to eep.procure@gmail.com.
The deadline for applications is 21 November 2017. For all questions and inquiries regarding the RFQ, please contact eep.procure@gmail.com.
The Ethiopian tender represents the fifth Scaling Solar tender in Africa to date, , after the recent RFQ launch for Madagascar. Zambia's Round 1 projects are expected to reach financial close soon, while Senegal and Zambia's Round 2 have both completed qualification stages and are awaiting proposal stage. A qualification stage is also expected soon in Madagascar.
Scaling Solar thanks its partners for their contribution to this project and their continued support for the Scaling Solar program.